Above and Beyond
An exhibition of Eleven Vietnamese Artists
BY BRADFORD EDWARDS
---
A strong inaugural exhibition of contemporary Vietnamese art opened in March at Pacific Bridge Contemporary Southeast Asian Art in Oakland, California. This exhibition is a clear sign that the Vietnamese art community has broadened and developed noticeably from the early 90's. The curators displayed an unusual strategy by freely mixing the work of three generations of Vietnamese painters. Artists from their mid 20's to their late 50's were represented and, with little exception, seem to share a common sensibility. While all the artwork could be described as serious, there is also ample evidence of playfulness. Notably absent in this collection is any evidence of the dominant French post-impressionist figurative work that many Vietnamese contemporary painters favor. The one approach that unites the eleven artists in this exhibition is that they are all willing to experiment and take risks.
The young troika of Nguyen Quang Huy, Nguyen Van Cuong and Nguyen Minh Thanh had a muscular presence in the gallery. In the brief time since these three classmates at the Hanoi Fine Arts University have graduated, they each, in their own signature style, have continued to hone their craft and, most importantly, translate their ideas more effectively. Cuong maintains his fascination with history and social change in richly illustrated, text loaded montages such as "Franklin in the Crowd." Huy's mysterious and suggestive shapes are more sculptural than ever and his secret indecipherable script vibrates with energy. Thanh, with his four huge hanging scrolls each titled "Woman," has fulfilled the self declared end to his extensive self portrait series. As in his previous work, these women are at once, monumental and intimate.
The next loosely defined generation of artists, in their 30's and 40's, include Truong Tan, Tran Van Thao, Do Hoang Tuong, Nguyen Thanh Binh and Nguyen Tan Coung. Truong Tan, whose influence on his former students is undisputed (Huy, Cuong and Thanh), continues his use of provocative figures in a sparse, incisive manner with "Under The Light."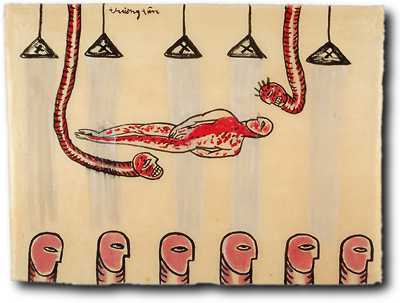 These five artists are not at all alike, yet Thao and Tuong have been closely associated for many years and it shows. Thao is a deep and thoughtful abstract painter who often uses personal symbols for the basis of his compositions. Tuong, in this exhibition, veers away from abstraction with the brooding series of six panels of figures each titled, "Introspection."
Cuong is concerned with the optical process, the way light and shape continually shift our ability to focus. His canvases can sometimes appear dated, too reminiscent of late 50's American abstraction. Binh is a master figure drawer and has considerable skill at handling paint, as seen in "School Girls." With both these artists, style can occasionally overshadow substance, yet their work always rings with sincerity and deliberation. Included in this exhibition is Eric Leroux and though not ethnically Vietnamese he has been living in Vietnam for seven years and his work relates comfortably with the others. In "There is Life Inside a Tiger" his deft use of gouache makes this painting glow behind an overlapping graphic field of symbols.
The elder painters, relative to the rest of the artists, are the veritable icons Nguyen Trung and Vu Dan Tan. What distinguishes these two painters, compared to their colleagues, is the vigorous abandonment that their work embodies. Though their respective imagery could hardly be more dissimilar, it is the way they continually defy the comfort of the familiar which informs both Trung's and Tan's work.
Trung is elegant and enigmatic as he consistently breaks new ground in his moody abstractions. In "Old Building I" he sets up a quasi-architectonic grid and arranges rectangles in a perfected asymmetry. Vu Dan Tan, unfailingly irreverent and whimsical, does what virtually no other Vietnamese artist does: he makes fine art from the refuse of Vietnamese bustling everyday life (using cigarette boxes, old records, print advertisements and beer cans). Apparently the most intriguing Vietnamese artist from western curator's eyes (proven by several invitations to international art fairs), Tan's work is conceptually based without the usual accompanying rhetoric.
This exhibition was one of the more significant group shows of contemporary Vietnamese artwork mounted thus far. It was simultaneously unified and disparate in its approach, which potentially could have been disastrous, yet "Above and Beyond" was successful on many levels. This was a personal collection of artists brought together by two curators who openly displayed their bias. While uneven in terms of individual pieces, all this work was well-executed and genuine. This exhibition, in the end, was about the surprisingly wide array of views and expressions flourishing in present day Vietnam.
---
Bradford Edwards is an American artist and art critic based in Santa Barbara, California. He has worked and exhibited extensively in Vietnam during the past six years.
---
Pacific Bridge Contemporary Southeast Asian Art, 95 Linden Street #6, Oakland CA 94607
Tel. (510) 45I - 8840 Fax. (510) 45I - 8806 email. pacificbridge@asianartnow.com
Gallery hours: Tuesday through Saturday 11 am - 6 pm.