Dialogue Face To Face

| | |
| --- | --- |
| ASIAN ART NEWS | JANUARY / FEBRUARY 1999 |
BY REENA JANA
---
Promoting contemporary artistic values from other, cultures to American audiences is no easy task. Perhaps the best way is direct contact with the artists and their works. This is what a young, innovative US-based gallery is doing. In this, the first of a series on resourceful galleries, San Francisco contributing editor, Reena Jana, features Pacific Bridge.
Since the early 1990s, the surge of interest in contemporary Asian art has been impressive indeed. But few galleries have truly opened their doors to it. The Oakland-based Pacific Bridge Contemporary Southeast Asian Art, one of the few that has taken on the subject of Asian art, in particular Southeast Asian art, is making an, impact on both artists and collectors alike, bringing them together as never before. The mission of Pacific Bridge is quite clear: to be the gallery in the United States creating a cultural bridge across the Pacific by introducing American audiences to today's Asian artists with a gallery devoted solely to the continuous exhibition of contemporary Southeast Asian art. Alongside the exhibition schedule is the Gallery's adventurous artist-in-residence program, which offers artists a four-to six week residency at the gallery that includes studio space, visits to San Francisco Bay Area galleries and museums, the opportunity to host public talks, and a guaranteed exhibition at the gallery.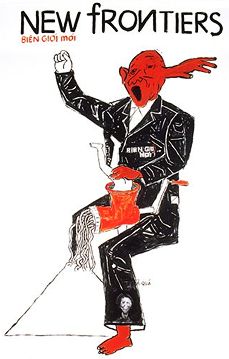 Opened only in March 1998, Pacific Bridge has fulfilled a great deal of its promise as an innovative gallery. Cofounders Geoff Dorn and Beth Gates, who both hold degrees in international studies, see the goal as to broaden the horizons of American art patrons with high quality art from other cultures that are often too easily viewed as marginal. Dorn cites the history of Japonisme as inspiration for Pacific Bridge's vision. "Look at how French artists were influenced by Japanese artists a century ago," he says. "We think there is a lot of potential for Southeast Asian art to possibly influence Western art in the future as well."
"We want to increase Americans' awareness of contemporary Southeast Asian art," says Beth Gates. "There are many people in the United States who haven't been to Southeast Asia, so we can give them direct access to artists from this region, while also presenting a simultaneous exhibition of the artists' works. We find the experience is enriching for viewers who can now have a chance to connect with these artists."
The artistic and cultural experience, however, is not merely one-way. The breadth of the cultural exchange for viewer and artist alike is important. "We give the artists the experience in the United States," says Geoff Dorn. "When they return to their home countries, they might realize that they were influenced by what they saw and did in America, from exposure to new things. When artists travel, they can get more in touch with their identity. The work that is created afterwards is really a document of their experiences."
Gates and Dorn should know. Between them, they have both visited and resided in over three dozen countries around the world. After two years of traveling throughout Southeast Asia, they decided to settle in the ethnically diverse city of Oakland and to open Pacific Bridge. The gallery is located in a re-vamped warehouse in an industrial part of this port city, located across the bay from San Francisco. Artists who are invited for the residency program live at the gallery's studios with Gates and Dorn, who live above the airy gallery space. This also helps to promote Pacific Bridge's goal of establishing cultural exchange, according to Dorn, who is quick to point out, "The artists aren't alone and isolated, like other residences."
Most of the artists invited to Pacific Bridge might otherwise be unable to visit the United States, due not only to financial reasons, but perhaps even political. Recent artists-in-residence have included Vietnamese artists Nguyen Van Cuong, Do Hoang Tuong, Nguyen Thanh Binh, Nguyen Tan Cuong, Nguyen Trung and Tran Van Thao. Cuong experimented with new, provocative imagery while working and living in the United States. Uninterested with the idealist attitude of artists and professors in Vietnam's art schools, Cuong worked on a series of haunting and often violent-paintings that recall Soviet and Chinese political propaganda with their stark palette and graphic quality.
Cuong's New Frontiers (1998), for example, a standout piece that Gates and Dorn used as the title of his exhibition during his residency, is a large acrylic work that was painted directly on the Gallery's walls. A nude female figure is fed into a meat grinder (a recurring theme in Cuong's work created at Pacific Bridge) by a red-faced figure wearing a Western-style businessman's suit. A statement on the rampant disrespect of and violence towards women even in today's "more civilized" world, this daring image is both disturbing in its content and yet aesthetically intriguing in its composition.
Do Hoang Tuong mainly worked with new materials during his residency. He used crushed pumice stone powder mixed with gesso to build up a new sense of texture on the canvas before he started painting his abstract compositions. He feels that his residency at Pacific Bridge helped him to gain more freedom in his work as well. "I thought young artists in America were different from Vietnamese artists, who are taught to make something beautiful to hang on a wall," says Tuong. "Asian people keep their minds secret, but Americans use art to talk about everything. While working in America, I felt the true freedom of the artist. I could get out of the art market, get out of the politics of art in my country, and just make art."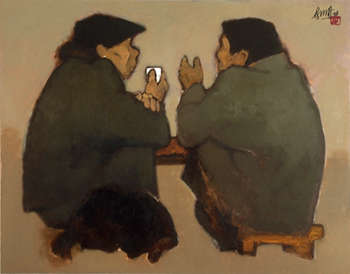 The work of Nguyen Thanh Binh and Tran Van Thao also represents the range of artistic voices that has developed during Pacific Bridge residencies. Binh is currently one of today's most widely recognized Vietnamese artists on the international art scene. His figurative paintings, bestsellers in Asian art galleries, are now also being collected widely by collectors in the United States and Europe, as well as within Asia itself. Morning Tea (1998), made at Pacific Bridge, conveys Binh's signature formal elegance, muted palette, and contemplative mood. Tran Van Thao, on the other hand, makes large-scale abstract works. His Old Space 111 (1997), for example, calls to mind the emotionalism of Western Abstract-Expressionist painters.
Gates and Dorn see the potential for large-scale cultural dialogue between East and West as a result of the residencies. "Since Geoff and I have traveled and lived in other countries besides our own, we believe that when Southeast Asian artists come and experience the United States, something might change in their art, and they might take these visions home," says Gates. "Plus, we will eventually feel the repercussions in America as well by being exposed to what they have to share with us about contemporary Asian life via their artwork."
"Artists are, after all, the group within a nation that shapes that nation's culture," says Dorn. "In some ways, our hosting these artists from Vietnam is part of a peacemaking process. Think of America's history with Vietnam. Our relationships have only been about war or business. I see the residency as a do-it-yourself promotion of both cultures."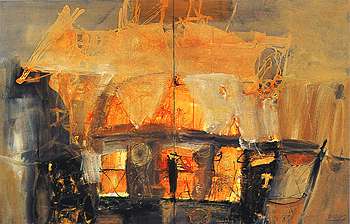 The gallery plans to host and to show artists from other Southeast Asian nations beyond Vietnam. Artists from the Philippines are scheduled to arrive this Spring, and two separate contingents of Indonesian artists are expected to visit the Gallery in the fall of 1999. Many of the artists such as Nguyen Thanh Binh and Tran Van Thao have never traveled to the United States before, although their work has been shown in galleries and museums.
The Gallery has recently unveiled an excellent Web site AsianArtNow, at http://www.asianartnow.com where internet visitors can browse through the work of gallery's past and present artists-in-residence. Critical essays accompany some of the work, along with artists' biographies and a wide selection of images from each of the exhibitions.
"The residencies are meant to be ongoing and will continue indefinitely," says Dorn. "We're excited to offer new elements of international exposure and cultural understanding through travel. Bringing the artists here makes the ideal dialogue between East and West more real. "
---
Reena Jana is the San Francisco-basedcontributing editor for Asian Art News and World Sculpture News.
All photographs: Courtesy of Pacific Bridge Contemporary Southeast Asian Art, Oakland, CA., USA.
Nguyen Van Cuong, New Frontiers, 1998, acrylic on gallery wall, 9 x 5.5 feet.
Nguyen Thanh Binh, Morning Tea, 1998, oil on canvas, 19 1/2 x 35 1/2 inches.
Tran Van Thao, Old Space 3, 1997, oil on canvas, 35 1/2 x 55 1/2 inches.
---
Pacific Bridge Contemporary Southeast Asian Art, 95 Linden Street #6, Oakland CA 94607
Tel. (510) 45I - 8840 Fax. (510) 45I - 8806 email. pacificbridge@asianartnow.com
Gallery hours: Tuesday through Saturday 11 am - 6 pm.