MARK JUSTINIANI (born 1966, Bacolod City) studied painting at the University of the Philippines in 1982 but left a few years later to join various protest art movements that broadened his socio-political awareness. Since 1988, he has participated in several group exhibitions most notably those that involved large-scale works and murals.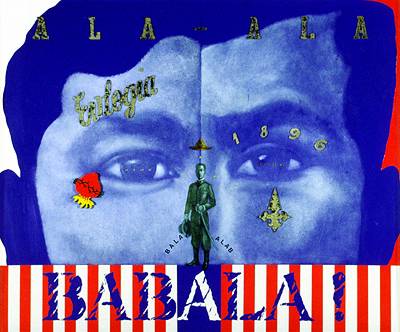 Eulogy 30" X 36" mixed media
He had his first solo exhibition in 1993; a show widely acclaimed as both a critical and financial success. A multi-awarded artist in almost all-national art competitions, he was granted the much-coveted Thirteen Artists Award by the Cultural Center of the Philippines in 1994. Justiniani is a well-traveled artist and has represented the Philippines in various international conferences, workshops and exhibitions in Japan, Denmark, Australia and the USA. Last summer Justiniani's work was included in the Asian Art Museum of San Francisco's exhibition "At Home & Abroad, 20 Contemporary Filipino Artists." Early in his career Justiniani began making socially relevant art where he focused on the lives of ordinary people who live precariously in a society filled with hypocrisy, contradiction and seeming hopelessness. His works in the exhibit typify imageries influenced by Philippine jeepneys, the most popular mode of transportation in the country. The jeepney has been one of his favorite subjects since 1988, and in these works, he uses familiar symbols as medium for socio-political satire. Artists' biographical information written by Bobi Valenzuela an independent curator and art consultant based in Manila. During the past 18 years he has curated numerous shows in the Philippines and abroad, and has been a consultant to several annual and bi-annual international exhibitions. He gives talks on cultural awareness and art. One of his more important projects to date was mounting a conceptual and collaborative installation exhibition "Ang de Latang Pinoy (Yes the Filipino Can)" – a tribute to the centennial celebration of the Philippine Revolution with more than 100 Filipino artists participating.