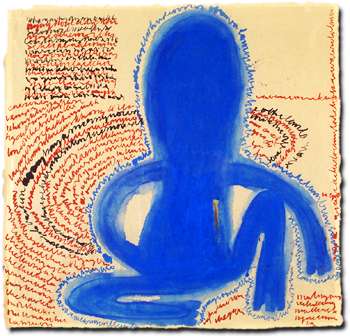 Nguyen Quang Huy, one of Hanoi's most intriguing young artists, was born in 1971 in Ha Tay, in the North of Vietnam. He graduated from the College of Fine Arts in Hanoi in 1996.
Huy's work combines silhouetted forms painted in fields of color with enigmatic writing which is used as a graphic element. His work is mysterious, he does not explicitly spell out its meaning. He consistently uses biomorphic shapes bathed in color and illegible script in his works which range from small works on rice paper to large works on canvas that measure several meters in length and width.
Huy has exhibited his work in Vietnam, Singapore and Japan, as well as France and Germany, and now he is represented at Pacific Bridge Contemporary Southeast Asian Art in Oakland, California, where he took part in the group exhibition, "Above and Beyond: Eleven Vietnamese Artists on the Cutting Edge."
In addition to selling his work to private collectors he has a work in the permanent collection of the Museum of Contemporary Art in Tokyo, Japan. Huy is one of a group of three dynamic recent graduates from the College of Fine Arts in Hanoi.